TV for the whole family - AT&T U-family
Prices start at just
w/12 mo agmt, $10/mo. discount (autopay may be req'd). Up to $7.99/mo Broadcast & add'l fees apply.
*NEW RESIDENTIAL CUSTOMERS ONLY. $35 ACTIVATION, EARLY TERMINATION FEE ($15/MO) FOR EACH MONTH REMAINING ON AGMT, EQUIPMENT NON-RETURN & ADD'L FEES APPLY. Price is after $5/mo. autopay/paperless bill discount for 12 mos. Pay $64.99/mo. + taxes until discount starts w/in 3 bills. Restr's apply.
Over 200 family-friendly channels available
Includes Disney and Nickelodeon, the two most-watched networks on cable TV*
All the most popular cartoons and nature shows
Hit food, home, and DIY programs
Access to financial news, inspirational television, and music channels
Local channels included
Add extra HD channels for an additional fee
See Channel Lineup
Popular U-Family channels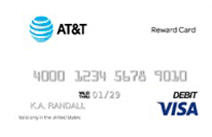 Get $250 in AT&T Visa® Reward Cards when you bundle AT&T Internet & U-verse TV.
w/24-mo.TV & 12-mo. Internet agmt. Internet plans 25M+. Redemption req'd.
Add'l fees & restrs apply. Reward Cards issued by The Bancorp Bank pursuant to license from Visa U.S.A. Inc. See offer details.
×
REWARD CARD OFFERS: Subj. to change and may be discontinued at any time. For new residential customers purchasing through All Home Connections by calling the number on this page. Residents of select multi-dwelling units not eligible. For all offers, you must maintain qualifying services from installation date through reward fulfillment to get Card(s).
$100 Reward Card for TV/Internet Bundle: Requires purchase of qualifying TV package (min. $49.99/mo. for 12 mos. after Autopay/paperless bill and bundle discounts that start w/in 3 bills. Prices higher in 2nd year) and 25M internet or higher plan (min. $40/mo + taxes & $10/mo equip. fee). Excludes AT&T TV NOW.
Additional $100 Reward Card for TV: Requires purchase qualifying TV package.
Additional $50 Reward Card for Internet: Requires purchase 25M internet or higher plan.
Reward Cards: For each offer, will be e-mailed or mailed a notice with redemption requirements. Redemption req'd w/in 75 days from notification e-mail or mail date. Will get Card(s) within 3-4 weeks after redemption. Card(s) expire at month-end 6 months after issuance. For cardholder agreement, go to http://rewardcenter.att.com. The AT&T Visa Reward Card is issued by The Bancorp Bank pursuant to a license from Visa U.S.A. Inc. and can be used everywhere Visa debit cards are accepted in the United States, US Virgin Islands, and Puerto Rico. No cash access. The Bancorp Bank; Member FDIC.
Family shows anywhere you are
With the U-verse Total Home DVR® you can watch TV on up to 8 different screens in your home. Record up to four shows simultaneously on one DVR, then watch them anywhere in your house. Now you'll have time to test out a new recipe from Food Network in the kitchen while the kids watch cartoons in the living room.

Get all this plus more news and entertainment channels with the U200 package >
Perfect for families with kids
U-family is the best package for people who want high-quality children's shows and learning programs without sacrificing channels designed for older audiences. The U-family package is great for the whole household:
Watch family friendly programming
Protect your children by using AT&T Parental Controls
Enjoy basic access to news, sports, and movie channels.
Liberate your TV—Wireless Receiver
The kids' playroom has enough clutter without adding extra cords and wiring, which is why the Wireless Receiver gives you U-verse without extra equipment. Just set it up wherever your house has a power outlet—even if it's outside.
Max 2 per household; req's power and connection to TV; range of wireless signal limited.
U-verse gives you more than entertainment
Sports channels on tap
Now the whole family can catch the latest MLB highlights or NBA playoffs. Dad can even check in on Sunday golf during NFL commercial breaks. Whatever the sport, U-verse has a channel to cover it.
Go international
Give your family the chance to explore new cultures and distant nations from the comfort of your couch. U-verse International packages give you and your family a sample of what the world is watching.
U-verse on the go
With U-verse, you can watch On Demand family programs on your computer or smartphone anywhere you get Wi-fi. Manage your queue and schedule recordings with the U-verse app so you never miss out on a family favorite.
*Based on one Genie HD DVR setup (model HR34 or HR44 only). Actual recording capacity varies based on type of programming being recorded.
×
U-FAMILY ALL INCLUDED TV PACKAGE: Ends 1/20/20.   $49.99 for first 12 mos. only. After 12 mos, then prevailing rate applies (currently $84/mo), unless cancelled or changed prior to end of promo period. Pricing subj to change. $5/mo. autopay/paperless bill discount: Must enroll in autopay & paperless bill within 30 days of TV activation to receive bill credit starting in 1-3 bill cycles.  First time credit will include all credits earned since meeting offer requirements.  Must maintain autopay/paperless bill and valid email address to continue credits.  $10/mo. bundle discount: Internet: Reqs new or existing svc. Excludes DSL. 12- mo. agmt req'd for new customers. Prorated ETF (up to $180) and Equipment Non-Return fees apply. Wireless: Consumers only. Sold separately. Reqs new or existing AT&T postpaid svc on elig. plan (excl. Lifeline) on a smartphone, phone or AT&T Wireless Internet device (excl. voice-only AT&T Wireless Internet). Both svcs: Eligible svc must be installed/activated w/in 30 days of TV activation and svc addresses must match to receive bill credit starting in 1-3 bill cycles.  First time credit will include all credits earned since meeting offer requirements.  Must maintain both qualifying svcs to continue credits. Incl. U-family HD service, equip fees for 1 HD DVR and standard pro installation. Exclusions: Price excludes applicable use tax expense surcharge on retail value of installation, custom installation, equip upgrades/add-ons (each add 'l receiver $10/mo) & other charges, including Broadcast Fee (up to $7.99/mo), a federal regulatory video cost recovery chrg and city video cost recovery fees. Credit restr's apply.  Different offers may apply for eligible multi-dwelling unit customers.  Subject to AT&T U-verse TV Terms of Service (at att.com/legal).
GENERAL WIRELESS: Subj. to Wireless Customer Agmt (att.com/wca). Credit approval req'd. Deposit/Down Payment: may apply. Charges/restrictions: Taxes, Reg.Cost. Recovery Charge (Up to $1.50), other fees and charges, usage, speed, coverage & other restr's apply per line. See att.com/mobilityfees for details on fees & charges. International and domestic off-net data may be at 2G speeds. AT&T service is subject to AT&T network management policies, see att.com/broadbandinfo for details.
Programming, pricing, promotions, restrictions & terms subject to change & may be modified, discontinued or terminated at any time without notice. Offers may not be combined with other promotional offers on the same services and may be modified or discontinued at any time without notice.  Other conditions apply to all offers.
©2019 AT&T Intellectual Property. All Rights Reserved. AT&T, Globe logo, and all other marks contained herein are trademarks of AT&T Intellectual Property and/or AT&T affiliated companies.  All other marks are the property of their respective owners.