Internet Built for the Hustle
Don't let a slow connection slow your progress. Get AT&T Business Internet.
Internet starting at
*Prices and packages vary depending on location.
Call 1-877-798-2363 to order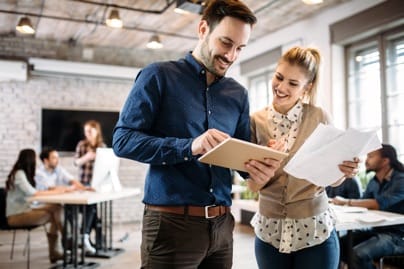 What is AT&T business
internet?
Internet is an essential cog to your business. It impacts your whole organization if it's not running smoothly. Luckily, business high-speed internet service from AT&T can help keep you operating efficiently.
Wireless gateway is included for reliable Wi-Fi
Powerful connection provides download speeds as fast as 500 Mbps**
Static IP addresses available for remote access and better security
**Varies between places and qualified businesses.
Get a Quote
Fill out the form to get pricing and information on AT&T business services.
Looks like there's an issue submitting your form.
Ensure your ad-blocker is disabled and submit again, or call us to complete your order!
Thank You
Your information has been received.
A representative will contact you shortly.
What business-class internet speed should I get?
The best internet speed for your business depends on the number of users, activities, and any budget constraints. Use this chart as a starting point, or call for help deciding between high-speed internet plans.
| Activity | 25 Mbps | 50 Mbps | 500 Mbps |
| --- | --- | --- | --- |
| Secure Wi-Fi | | | |
| Downloads & Streaming | | | |
| Video Conferencing | | | |
| SaaS & Cloud Apps | | | |
Speed/Time examples are estimates.
*Limited availability in select areas. May not be available in your area. Go to att.com/getfiber to see if you qualify.
Bundle your way to better savings
It just makes sense to bundle internet and phone service if your small business uses both. You'll wish you combined them earlier once you see the time and money savings.
Connect with clients near and far with local and long-distance calling***
Increase productivity with business- class internet service
Entertain customers by adding a DIRECTV plan***
Bundle Today
***Packages vary depending on location
AT&T small business internet: 99% reliability
Business internet access gives you and your employees the tools needed to work harder and faster.
Stream, download, and video conference without waiting around
Add up to ten email accounts
Connect to AT&T Wi-Fi Hot Spots
Call Now
AT&T business internet support
Internet connectivity problems can be detrimental to your business. AT&T will waste no time getting you back online.
Speak with a friendly and helpful customer service agent
Fix small issues before they become big ones with assistance from tech support
Find answers in a convenient help portal
Get Help
Frequently Asked Questions
Does AT&T business internet have data caps?
Will I have an early termination fee?
How can I get help with my equipment?
How can I contact customer service?